Job Description of a Bodyguard
A bodyguard's role might involve protecting wealthy people, political figures, celebrities, visiting dignitaries or various professionals. A bodyguard protects clients from threats, imminent dangers and even possible kidnapping. Bodyguard training depends on the particular type of work. The job may involve being armed or dressing in street clothes to avoid attention and find potential risks.
1. Escorts individuals to protect them from bodily injury, kidnapping, or invasion of privacy.
2. May perform other duties, such as receiving and transcribing dictation or driving motor vehicle to transport individuals to disguise purpose of employment.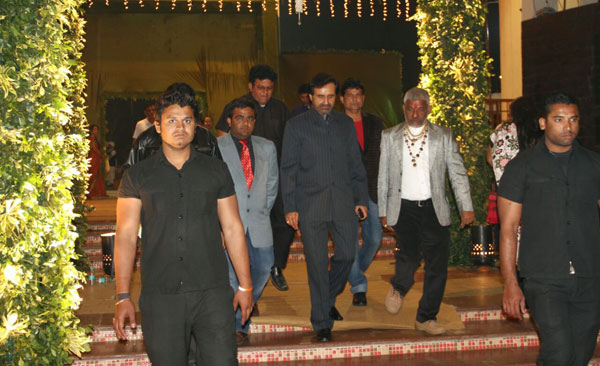 Advance Inspection
Security measures bodyguards take when guarding a client facing daily risks with the public could include ensuring rooms, buildings or vehicles are free from potential dangers. As a bodyguard, you might check for bomb devices, any kind of weapons or bugging equipment for the client's protection and safety. Bodyguards may use complex communications systems, such as night or heat vision equipment and electronic devices, to check vehicles or other objects for the protection of a client.
Planning Ahead
When hired to protect someone, the day can start with being informed about a client's itinerary. Your job might include checking the background of anyone who has personal contact with the client, making sure people have been verified to deal with the client. You might receive a brief from a client and be advised about possible threats or asked to conduct a threat assessment. Your job could include profiling particular people or groups identified to possibly cause harm to your client. Bodyguard duties often include research and intelligence gathering to identify risk factors or form an operational plan for your client's protection.
Prepare for Changes
The bodyguard knows the travel plans of a client and sometimes drives a vehicle for the client. Travel plans can be changed at a moment's notice because of security purposes. You may work for a team of bodyguards and take directions from the leader of the team or lead the team yourself. A leader usually interacts more often with the client or client representative concerning plans and schedules. The leader then handles team plans and rescheduling throughout the day, depending on plan changes.
Observing Potential Risks
Bodyguards observe all surroundings while protecting a client, such as checking exits and entrances as well as interacting with area security personnel not part of the client's security team. You might monitor or authorize entrances and departure of employees, visitors and other persons to maintain security. Your job could also include circulating undercover among crowds to stay alert of any potential problems. The bodyguard knows ahead of time who to trust for security measures and what to look for in a potential attacker against a client. Bodyguards learn from training how to discern a threat before it happens, according Top Gun Security Services, a Texas security company. The bodyguard remains prepared to use training in use of firearms, combat and reflex abilities to protect a client if the time arises.
Security Duties
Because a bodyguard serves as a protection officer, duties might include work as a security guard. Part of your bodyguard duties might include reporting daily activities or irregularities in equipment or property damage. You might patrol industrial or commercial properties to prevent or detect signs of impending problems for a client. Bodyguard activities also include screening individuals in a specific area where a client is about to approach, warning people about violations or rule infractions on certain premises and inspecting or adjusting security systems. Your duties might include answering telephone calls or taking messages to provide information for your client.