Duties and Requirements
Learn about the education and preparation needed to become a security officer. Get a quick view of the requirements as well as details about training, job duties and other requirements to find out if this is the career for you.
Security officers protect people and property in a variety of settings. With a high school diploma it is possible to enter the field as a security officer. Self-defence training, firearms training and, in some cases, a bachelor's degree may also be required.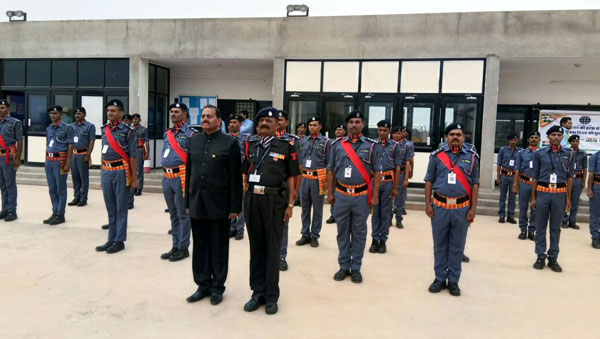 Essential Information
Security officers protect people, assets or property from criminal activity or harm. Education requirements vary based on the position, ranging from a high school diploma to a degree in criminal justice or law enforcement. Weapons training might be necessary for some jobs. People interested in a public service career might find this option appealing, and job opportunities are projected to see average growth.
| | |
| --- | --- |
| Required Education | High school diploma; bachelor's degree in some cases |
| Other Requirements | Self defence training; firearm training (depending on the position) |
Salary Info
The job prospects are promising for this field, with the expected growth rate estimated at 5% between 2014 and 2024. Continued concern regarding theft, terrorism, vandalism and other crime ensures that the employment of safety and security personnel remain necessary.
Duties
Security officers generally serve a contract or proprietary security department. They are assigned to protect people, assets or property from criminal activity or harm. Depending on the location and nature of their work, security officers may or may not be armed.
The duties of security officers depend largely on whether they are assigned to a stationary post or a mobile patrol. Those at a stationary post are required to stand watch at their specific location for a set amount of time. They closely monitor the property and people at their specific location and often have access to alarms and video surveillance. Security officers with a mobile patrol walk or drive within an assigned area, looking out for any potential criminal or safety concerns and making the appropriate arrests and citations.
Education and Training Requirements
Educational standards for security officers generally differ based on the specific position desired, particularly with regard to whether or not that position is armed. Armed guard positions typically require a minimum of a high school diploma and appropriate firearm training, which includes regular testing and continued education on the appropriate use of force. They often typically undergo training on self-defence and prevention techniques. More advanced security positions also require completion of a degree program in criminal justice or law enforcement.
Because of the great responsibilities and potential risks involved with becoming a security officer, the hiring process is often very thorough. Candidates must have no serious criminal background, be mentally competent, possess strong character references and be in good physical condition.
Those interested in pursuing a career as a security officer must be in good physical condition and demonstrate relevant skills by taking self-defence training and firearms training; formal education requirements vary. Some venues security guards are employed at include public buildings, retail stores, office buildings and casinos.